VMS DISTRIBUTION 2021 BLK FRIDAY WEEK!!!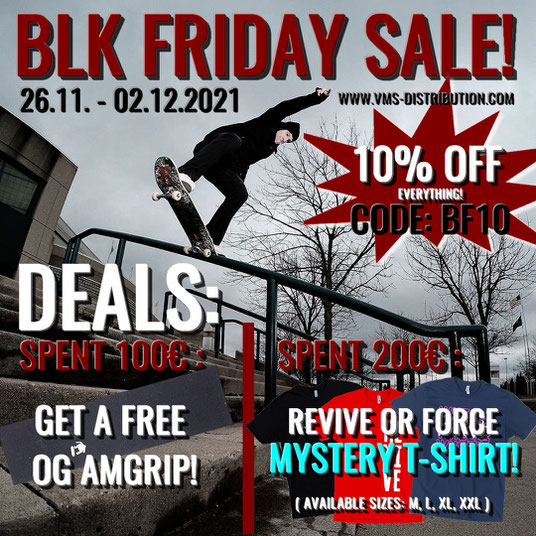 EN:
We have some special deals and a sitewide sale starting november 26th. and ending on december 2nd. (day included)!
- GET 10% OFF EVERYTHING with the code: " BF10 "
- SPENT 100€ and get a FREE sheet of OG Amgrip.
- SPENT 200€ and you will receive a FREE mystery/surprise Revive or Force (can't choose brand) T-Shirt. Just let us know your size (and maybe a second size too) in the order note. Available sizes are: M, L, XL, XXL. 
while supplies last!
DE: 
Unser SALE und die Special Deals sind ab dem 26.11. bis einschl. 02.12.2021 gültig. 
- 10% RABATT AUF ALLES mit dem Code: " BF10 "
- Ab 100€ Einkaufswert gibt es ein gratis Sheet OG AmGrip
- Ab 200€ Einkaufswert gibt es ein gratis Revive oder Force Überraschungs-Shirt (Marke, Farbe, Design nicht wählbar). Lasst uns hierfür einfach eure Wunschgröße (+ zweite Option) in der Bestellnotiz wissen. Verfügbar sind: M, L, XL, XXL.
Solange der Vorrat reicht!