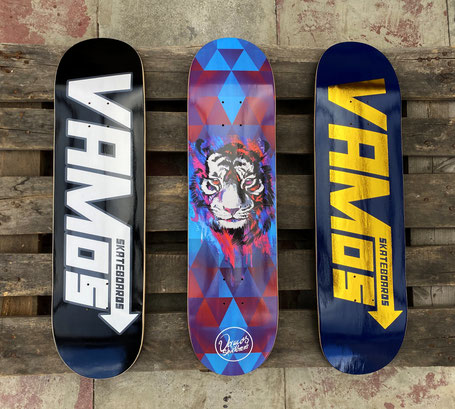 GREAT NEWS!
The Vamos Skateboards Fall 2020 Release is available now!!
We just stocked the new BLACK SPEED, TIGER & NAVY/GOLD SPEED Deck.
Vam0s took it simple with the black & grey colorway of their classic "Speed"-Logo Deck. They also added a premium foil version with a great looking navy blue that matches the shiny gold foil perfectly.
The "Tiger" deck with it's great design is also an eye-catcher!!!
Vamos also offers a great size selection. The BLACK SPEED is available in all sizes from 7.50" up to 8.50". TIGER starts at 7.75" - 8.50" and the NAVY/GOLD SPEED is available in 8.00", 8.125", 8.25" & 8.50"
Also check out the gallery below :)
Head over to the shop and grab a new deck!
(B2B customers can hit us up for the new pricelist now!)