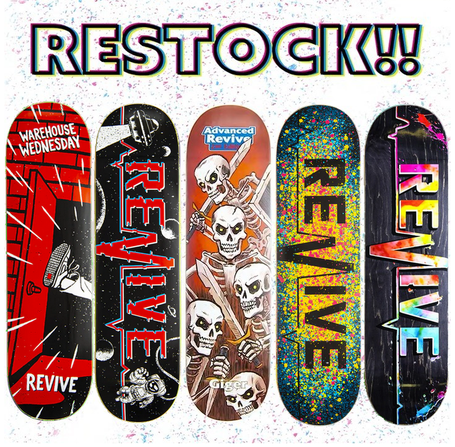 We will receiving a super limited amount of Revive Decks, Force Wheels & some more AmGrip for you guys!
It won't be much but we gave our best to get some gear to keep you rollin' out there ;) 
The stuff should be up for order (or pre-order) in the next few days. So make sure to keep an eye on our shop! We will also have the new BRAILLE x REVIVE Collab deck and some new Revive Sticker Packs.
The following gear will be available again:
REVIVE DECKS:
Red Lifeline 
Giger Skeleton
Space Lifeline 3.0
Warehouse Wednesday
Splatter 3.0
Tie Dye 3.0
Ambs World
Braille X Revive Collab
FORCE WHEELS:
Giger Pro Controller 53mm
Greatest Hits! 52mm
Fire Slash 54mm
AMGRIP:
OG AmGrip
Pizza 
Revive Collab
Force Collab
Stay tuned! 
FOLLOW US ON INSTAGRAM or FACEBOOK and don't miss any updates.
- VMS Team